This week has not been good, my family and I have been struck down with sickness after a celebration meal at a nearby hotel. It's taken a good three days to recover and still not feeling 100%. Then, this morning, two parcels arrived to put a smile on my face for the first time this week!
I ordered the following from Shannon Le Vart at missficklemedia you can see her site
here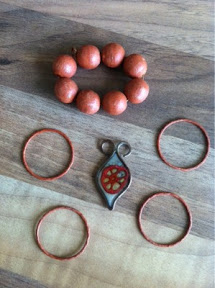 Even more lovely in real life, I ordered these with the March Art Bead Scene challenge in mind.
I also received a treasure bag with mixed handmade pendants and beads from Gaea, you can see her shop
here
. These are absolutely stunning and my pictures do not do justice to the colours.
Thank you, lovely ladies, I can't wait to get started!
">