Carrying on the theme of Valentines, here are some bracelets I have made tonight.
The first bracelet is definitely one for the romantics amongst us. I've used a large acrylic facetted bead as the focal and some fabulous Rose quartz saucer beads together with swarovski crystals in varying shades of pink including Rose alabaster. The saucer beads are from
Anastasia Beads
.
I have used a magnetic clasp which is cunningly disguised as a silver bead covered in rhinestones, I think these clasps are very effective, especially if you don't have a helping hand when you're struggling with a conventional clasp.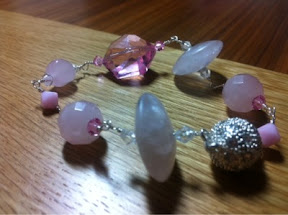 After having a burst of creativity tonight, I also made this bracelet which has a silver ring, hand wrapped with red swarovski crystals and a silver heart charm attached. This one has a small lobster clasp which attaches to the large silver heart.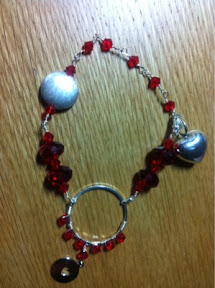 I really enjoyed making these because the colours are outside of my normal palette which usually consists of silver, black and more black! I hope you like them too.
Posted using BlogPress from my iPad