Loads of things have happened since my last post! We did indeed visit Portobello Road on Saturday and it was fabulous. For those who may not know, Portobello Road is the world's largest antique market and it is open every Saturday. Every kind of antique can be found at the market but most interestingly for me, there is every style of jewellery you could ever wish to see - all era's from antique to vintage costume and all designers from Chanel to Schiaparelli. It's fantastic to see it all in real life instead of pictures in books and on the Internet.
I bought some figural brooches by BJL. Very little is known about this maker other than the pieces are believed to be from the 1920's to 30's, made in London and feature enamel and marcasite. Identification is through the stamp, BJL, found on the back of the item.
I have seen brooches come up on EBay and other specialist sites but very rarely. The most common are the Merman and the Archer who would appear to be from a mythical or horoscope themed collection. I was so pleased to find the following brooches in excellent condition.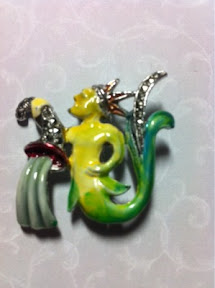 A great start to my collection!
I spent the rest of the weekend hopping from blog to fabulous blog checking out the beautiful items made from bead soup! Out of the 210 bloggers who took part, I still have about 100 blogs to go but so far the quality and variety of jewellery has been astounding! I was so disappointed to miss this bead soup party but I am ready for the next one in August! Lori Anderson of Pretty Things is the brains and the organisation behind this amazing event, she truly is a superwoman! To read more about the bead soup party, see her blog post
here
.
In the meantime, i'm going to carry on hopping....