This was the most stretching challenge yet but I am so proud that I've managed to complete it on time. See the post below for my original muffin tin, I've changed some of the items along the way as inspiration struck and here are the finished pieces...
And some closer ups...
This necklace includes a limpet shell I found on the beach at St Ives and I've sprayed it with silver paint, very effective! The charms are sterling silver with labradorite coin beads and a swarovski mix.
The earrings are amazonite with antique brass wire and smokey quartz crystal beads.
This bracelet is made with lampwork beads from CeeGee designs and the focal is a piece of sea glass that my daughter and I found on the beach.
Some earrings to match the bracelet and some large hand wrapped kidney wires with lampwork beads from Anastasia Beads.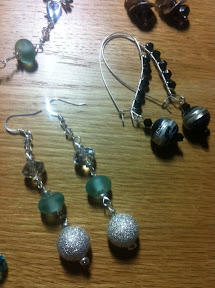 A bracelet made with pewter skull beads, Rose quartz rounds and a Rose quartz skull bead from Buffys Beads at Carnaby Street, London.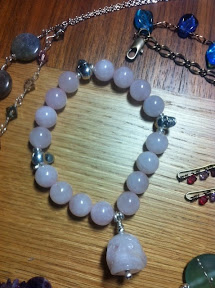 An amethyst bracelet stung on silver wire with a bling magnetic clasp.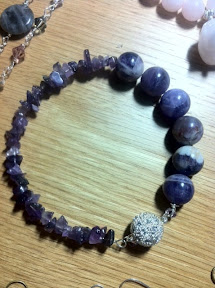 And my daughter's favourite, crystal wrapped hair grips inspired by the lovely Rebecca Anderson of Songbeads.
Finally, a bracelet made with antiqued brass wire, pressed glass leaves and flowers with a beehive focal from Kylie Parry.
Thank you to Heather of Humble Beads, this challenge really focussed my mind!