It's finally here!! I'm thrilled to take part in the biggest bead soup blog party ever. Over 300 bloggers have swapped beads, focals and clasps across the world to be involved in this amazing blog party organised by the incredibly talented Lori Anderson of
Pretty Things blog
.
My partner is Ann Rishell of
My Critical Eye blog
. Be sure to visit Ann's blog to see the bead parcel i sent to her. These are the gorgeous beads and components that she sent to me.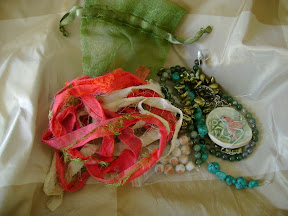 Ann sent me so many beautiful items I couldn't use them all! I am especially loving the turqouise beads and the coral sari ribbon and focal - turquoise and coral are my favourites right now. I added some coral czech glass beads from my own bead collection to complement the soup, Here are the two necklaces that I made:
Here is the list of all the fabulous people who took part, I can't wait to hop round them all although it's going to take a few days!
Lori's list
and hop through that way.
I have really enjoyed the whole experience and hope you do too. A huge thank you to Lori for organising such an amazing event...you rock!