This one is a bit different to previous challenges - the art inspiration is a quilt instead of a painting and it is seriously beautiful!
"Housetop"--twelve-block "Half-Logcabin" variation, ca. 1965
Cotton, Wool Corduroy, 77"x 65"
Lillie Mae Pettway, 1927-1990
Gee Bend's Quilter
This quilt is one of 60 quilts in the exhibition, created by 42 women spanning four generations, provide a fascinating look at the work of 20th-century artists who lived and worked in solitude.
The quilt is named after Gee's Bend which is located in southwest Alabama on a sliver of land five miles long and eight miles wide, a virtual island surrounded by a bend in the Alabama River. Without a ferry service for decades, the residents were confined by the river unless they made the hour-long drive to the county seat of Camden, directly across the river from Gee's Bend.
Gee's Bend was named after Joseph Gee, the first white man to stake a claim there in the early 1800s. Isolated geographically, the women in the community created quilts from whatever materials were available, in patterns of their own imaginative design.
The exhibition was organized by the Museum of Fine Arts, Houston. The quilts in the exhibition are drawn from the collection of Tinwood Alliance, a nonprofit foundation for the support of African-American vernacular art.
About the Artist
Lillie Mae Petway was one of seventeen children. Her mother Aolor Mosely was one of the founding members and behind the scenes organizers of the Freedom Quilting Bee.
Lillie Mae and her sister Mary Lee Bendolph shared their mothers enthusiasm for rectangular patterns with bold colors.
The palette drawn from this quilt is very colourful and bright!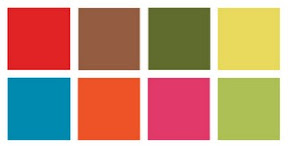 The Blog Tour deadline is September 28th and the Blog Tour will be on the 30th.
For the full rules of the challenge please the post at
Art Bead Scene blog
.
What are you waiting for....have a go!