Welcome to the Total Treasures Blog Hop which has been organised by Amy of
Copper Diem blog
. When Amy suggested this blog hop I was really intrigued so I signed up.
Amy has designed an Etsy treasury for each participant and the instructions were as follows:
Use the inspiration from that treasury to create ANY piece of jewelry. Earrings, necklace, bracelet, rings, all of the above, whatever you like. On August 14, post the screen shot and link to the treasury you were given, along with whatever you were inspired to make, and a list of the hoppers provided by Amy.
Here's the link to my treasury
Hot Sunday
I was inspired by the colour red and also the bow that featured in the treasury. I have been wanting to introduce material into my designs for a while and came up with this bracelet which includes satin cord and black onyx strung through on black wire.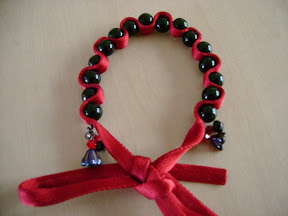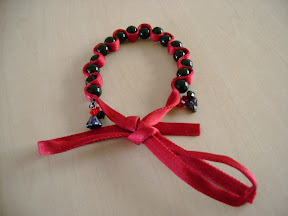 In my stash I also had some gorgeous red glass beads which are half coated with a kind of aurora borealis glaze. The beads came from a necklace I found in a charity shop and now they live again!
I tried for ages to think of something else to add to this bracelet but in the end, it looked best as below - the beads are so shimmery!
Earrings made with the same beads and vintage brass wire.
Hair grips wrapped with vintage brass wire.
I'm really pleased with the way these turned out.
And here's the list of hoppers...enjoy!
Copper Diem
Fuego, metal y color
Silver Nik Nats
Beads and Bread
Copper Penny Designs
Green Shoot
You are here!
Wild Sally Road
Mamas Got To Doodle
For the Love of Beads
Beads for Busy Gals
EBS Jewellery
Cianci Blue
Beads for Brains
Nicki's Reef
Sweet Girl Design
Nicole Rennell
">
Thanks to Amy for organising this blog hop, I really enjoyed being a part of it and can't wait to hop around everyone else!