My bead soup ingredients have arrived and Iook how fabulous they are!
Gorgeous ribbon, turquoise beads, speckled glass beads, moss agate, gold coloured pearls, mottled chips, blue glass beads, jasper donuts, a pink resin bar bead, a silver toggle and an amazing ceramic pendant with hummingbird design!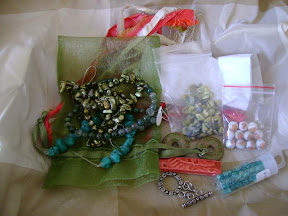 What a gorgeous collection, I will be able to make loads with this!
Heartfelt thanks to my bead soup partner,
Ann Rishell of My Critical Eye blog
.
Can't wait until reveal day!