OMG, I am sooo excited! This will be my second bead soup blog party and I can't wait!
I would encourage you all to participate in the party, it is a fab experience to be part of and it really pushes your creative limits. Read more about the bead soup blog party in the words of the wonderful hostess and organiser extraordinaire, Lori Anderson in her blog post
here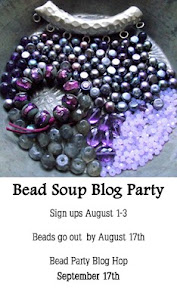 After you've signed up, Lori will pair you with another blogger and you will send each other a package of beads in line with the rules of the blog party.
When you get your package of beads, show your beads on your blog, then you make something with it, take a picture, and post it on your blog on the Party day. Then everyone hops around to as many Party Blogs as possible to see what people made on Party Day!
It is such a great idea! Sign up now, what are you waiting for!