Those immortal words known to every dancing queen! I haven't been to outer space really, more like Cornwall, a fantastic holiday in my very favourite part of the world....St Ives!
We were really lucky with the weather, both looking more like we have been on a mediterranean jaunt rather than the fabulous Cornish coast.
Here's the view from our kitchen window!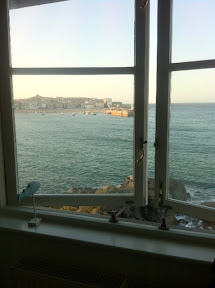 And this is the view from my bedroom!
I'm not quite sure how I managed to leave and come home! We're off to London for the weekend so I'm hoping to visit Buffy's Beads again although it's my little one's birthday so I think I'll be spending quite some in Hamleys! We are also booked to see Phantom of the Opera, she is so excited!
Back to normal and more beady things after the weekend!