I haven't made any new jewellery for aaages so I'd like to share some of my recent acquisitions. Firstly, I was lucky enough to receive a PIF from Elisabeth at
Beads for Busy Gals
blog.
An exciting little parcel arrived...
....which upon opening revealed a fabulous selection which I was really pleased to receive, thank you so much!
I also visited
Buffys Beads
on our recent visit to London. I absolutely love Buffy's, I bought some amazing beads...
Botswana Agate facetted nuggets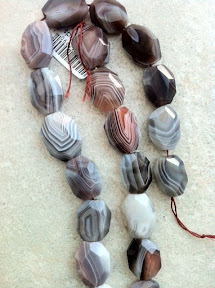 Carnelian drops
Labradorite coins
And last but not least...some fab Rose quartz skull beads
All I need now is the time to sit down and make....watch this space!